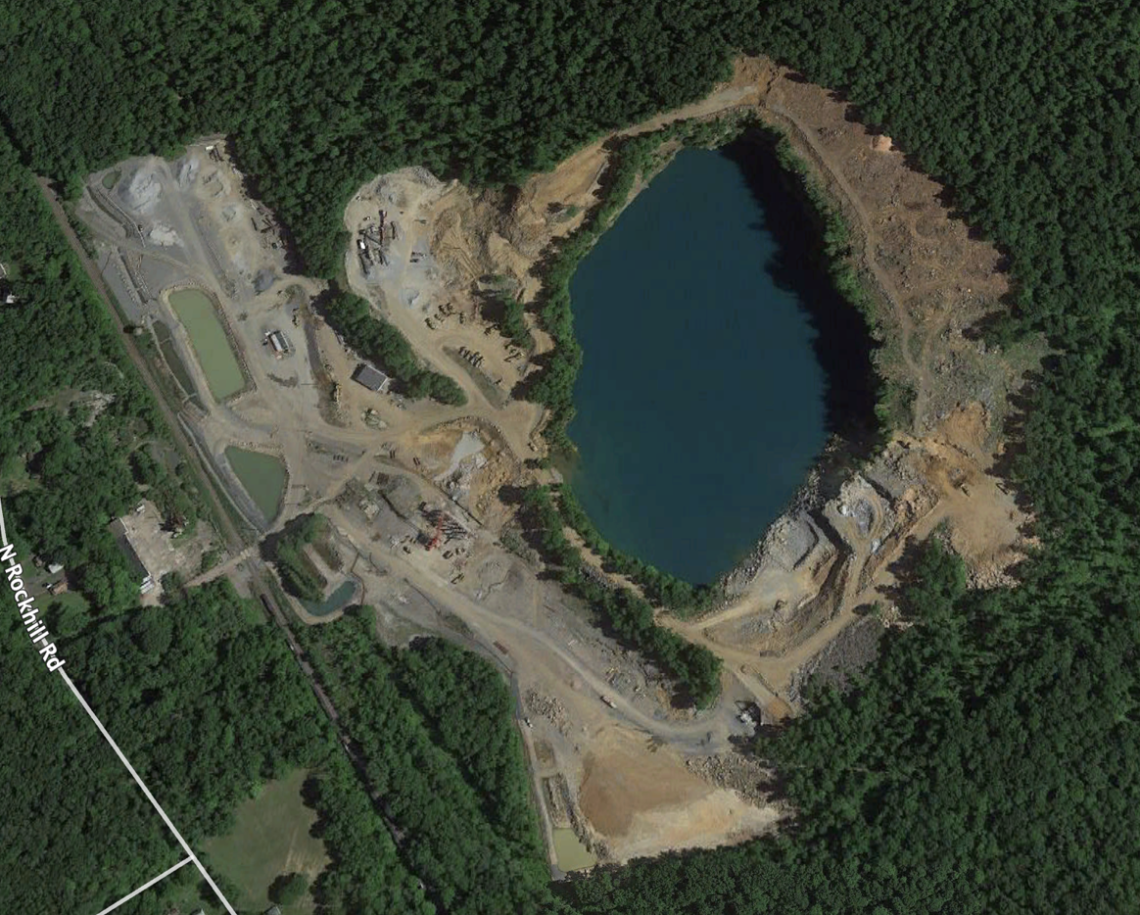 Rock Hill Quarry. Google Earth screen shot.
All operations at  Rockhill Quarry in East Rockhill, Pa., were halted on Dec. 5, 2018, after the quarry notified the Pennsylvania Department of Environmental Protection (DEP) that it found asbestos when it began work in a new area, the Bucks County Courier Times. The quarry is owned by Hanson Aggregates Pennsylvania, a subsidiary of Heidelberg Cement, but is being leased and operated by Richard E. Pierson Materials Corp., which has a $224 million contract with the Pennsylvania Turnpike Commission for work on the Northeast Extension.
"The DEP ordered all mining, rock crushing and sizing, and other related activities at the quarry cease," said DEP spokeswoman Virginia Cain in an email, according to the news agency. "DEP has requested a letter from the operator outlining the most recent sampling and positive asbestos analysis, what additional investigations they are going to perform to address the recent asbestos test results, and the potential for additional asbestos-form minerals to be present at the site." She noted that "no material is thought to have left the site," and that the work stoppage would remain in place until the order was rescinded by the DEP in writing.
Hanson spokesperson Jeff Sieg sent an email to the news agency noting that the asbestos was found in unprocessed rock and that its discovery "does not indicate unsafe levels in the air, and there are no indications that the employees or surrounding community were at risk."
"During routine testing of an area of bedrock in preparation for mining, a sample of unprocessed rock was suspected to contain naturally occurring asbestos," Sieg wrote in the email, according to the news agency, adding that the quarry stopped operations to investigate. "It was subsequently determined that the rock did indeed contain levels of naturally occurring asbestos above the method detection limit. The state (DEP) was notified, and operations at the quarry are currently suspended."
Sieg added that an "operating plan" that includes mitigation measures will be developed in accordance with the DEP.
January 2, 2019